Ageing in Place is Reimagined at St Luke's ElderCare's Active Ageing Hub@Bishan
June 13, 2023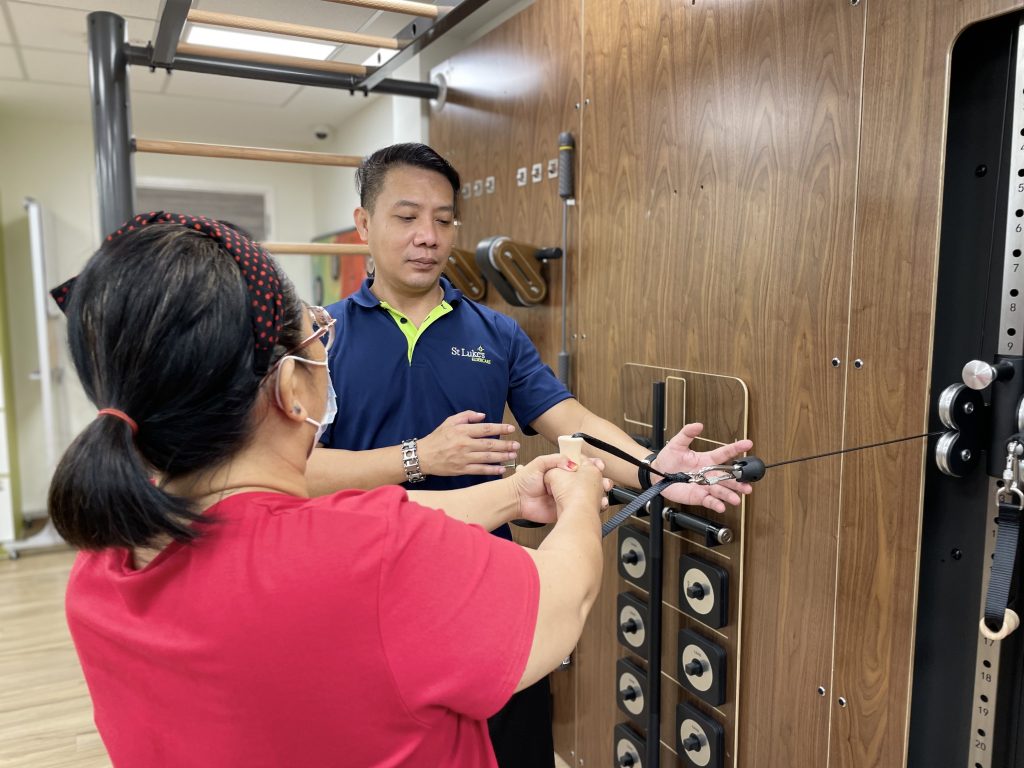 Singapore, 26 May 2023 –
St Luke's ElderCare (SLEC) announced the official opening of its first Active Ageing Hub@Bishan (AAH@Bishan) on 26 May 2023. Set to transit into an Active Ageing Centre (Care) in the next 12 months, AAH@Bishan aims to serve more than 3,000 seniors in the community, including residents living in the Golden Jasmine Block, Singapore's first studio apartments for seniors. AAH@Bishan offers maintenance and dementia daycare, active ageing and community rehabilitationservices for the residents in the vicinity.
AAH@Bishan would serve residents like Mr William Chia Seng Yeow, 74, who has been staying in the Golden Jasmine block for 13 years. Mr Chia was initially shy and avoided participating in the activities at AAH@Bishan. However, after repeated befriending attempts by the staff, Mr Chia now drops by AAH@Bishan regularly to play pool with his friends and attends the SLEC Fit Agers programme. He has even picked up a new skill by joining the ukulele club.
A/Prof (Dr) Kenny Tan, Chief Executive Officer, St Luke's ElderCare, said, "HealthierSG is a major mindset shift for the sector. The opening of St Luke's ElderCare Active Ageing Hub@Bishan is a significant milestone, demonstrating how the CommCare sector can collaborate with healthcare and community partners to take transformative preventive care to new heights and serve those aged 50 years and above on preventive health. We are glad to be able to draw support from the community, and at the same time, give back to our community in tangible ways – creating an ecosystem of care while tackling issues related to an ageing population.
With the shifting of healthcare focus to preventive care, SLEC is championing several preventive health programmes at AAH@Bishan to keep seniors engaged, active and healthy. SLEC's active ageing programmes include the WE! (Workout Empowerment!) and the newly launched Fit Agers which targets those with or at risk of chronic conditions. For more information, please refer to Annex A.

Ageing-friendly activities such as fitness classes, workshops on digital inclusion, nutrition, arts and other activities have been curated with our active agers' physical, social-emotion and spiritual wellbeing in mind and seek to engage, empower and enrich their lives. Other hobby clubs include ukulele, juggling and chair Zumba which incorporates movements from Latin dances to improve stability, muscular strength and motor skills. The clubs aim to bring together like-minded individuals, allowing for better relations and a greater sense of belonging.

SLEC collaborates with care and community partners to ensure a multi-faceted approach to engage and enrich the elders. SLEC partners with Regional Health System partners, including Primary Care Networks like General Practitioners, to prescribe and recommend preventive programmes and activities for seniors, in line with the HealthierSG Initiative. SLEC also partners with Tan Tock Seng Hospital to curate care plans and enhance our active ageing programmes; for instance, we co-curated advanced care planning workshops for residents in Bishan. Other partners include Infocomm Media Development Authority where active agers can learn to use essential communication tools and access government digital services such as the Singpass and HealthHub apps.

Jennifer Goh, Assistant Director of Centre-Based Services, St Luke's ElderCare, said, "One of the challenges we have identified is having volunteers on the ground to support befriending efforts, so having a network of partners is important in our efforts to reach out to the community."
For more information, please contact:
Assistant Manager, Communication & Partnerships, St Luke's ElderCare
+65 9222 1500
Senior Executive, Communication & Partnerships, St Luke's ElderCare
+65 9687 3155
About St Luke's ElderCare
St Luke's ElderCare (SLEC) is a Christian healthcare provider committed to meeting the evolving needs of our elders and caregivers. SLEC's ecosystem of care is centre, community, residential and home-based services.
With our vision of Transforming Community Care, we deliver a full range of integrated services and programmes including maintenance day care, day rehabilitation such as physiotherapy and occupational therapy, dementia care, nursing care, respite care, wellness programmes.
SLEC operates 24 Senior Care and Rehabilitation Centres islandwide, one Active Ageing Hub in Bishan, one Active Ageing Centre (Care) in Chong Pang and one Residential Home in Ang Mo Kio, serving elders regardless of race, language and religion. Incorporated in 1999, SLEC is a registered charity and an Institution of Public Character.
Find out more at www.slec.org.sg or follow us on Facebook, Instagram and LinkedIn.
ANNEX A
About St Luke's ElderCare Active Ageing Hub@Bishan
AAH@Bishan is housed in two separate facilities in Bishan. Block 152B is a drop-in recreational and community rehabilitation centre for seniors living nearby to help build strong social connections and improve their quality of life. It also offers maintenance day care and dementia day care services for seniors at Block 136 and has a capacity of 60.
About St Luke's ElderCare WE! Programme
WE! (Workout Empowerment!) Programme is a 12-week incentive-based fitness programme to get seniors started on exercising and to promote the benefits of Healthy Eating and Active Living. Participants are introduced to low to medium-intensity circuit training guided by a fitness coach and at the end of each 30-minute workout session, participants are rewarded with a complimentary healthy meal.
About St Luke's ElderCare Fit Agers Programme
St Luke's ElderCare's Fit Agers programme is an initiative developed by a multi-disciplinary group comprising physiotherapists, dietitians and health wellness coaches from SLEC. With a play on the word "teenager", the Fit Agers programme aims to debunk the stereotypes that keeping fit and eating healthy is only possible for the young. The 12-week programme is split into two intervention arms – diet and exercise – both of which are carefully crafted to empower participants to take control of their health and well-being.