Road to Recovery with St Luke's ElderCare
August 30, 2019
This World Physiotherapy Day, we wish to share two success stories of our elders at St Luke's ElderCare (SLEC). They have not only conquered their mobility issues, but have also regained their strength and confidence.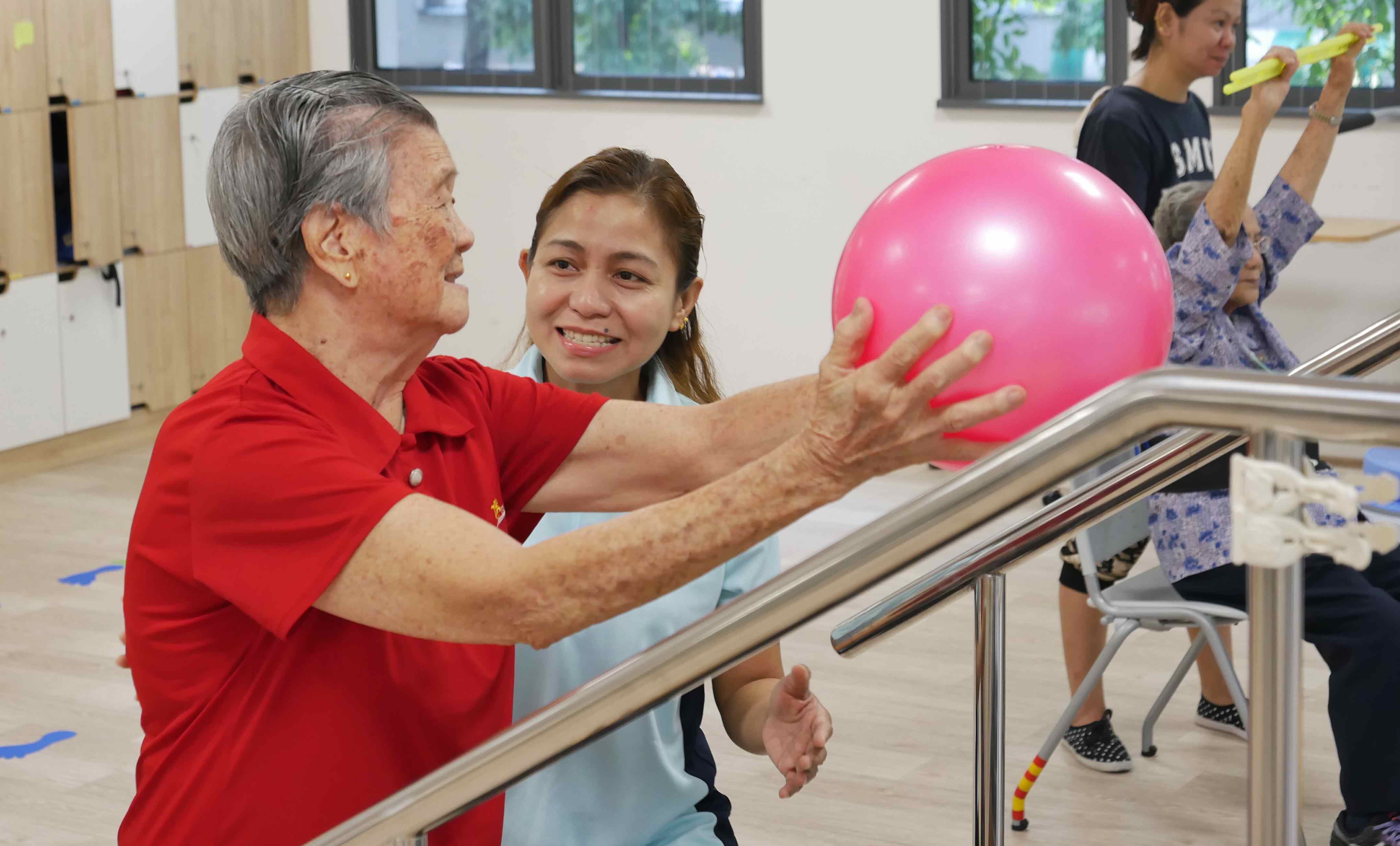 Road to Recovery with St Luke's ElderCare

Back in September 2018, Mdm Wong Ah Noi, an 85-year-old elder, had a fall and sustained a fracture in her right hip. She had her hip operated but was readmitted for treatment right after because her wound got infected. As a result, her functional status had deteriorated rapidly. This was a setback for both her and her children; "I needed help from my daughter to sit up and get from the wheelchair to the bed," said Mdm Wong. "I was only able to walk around the house using a walking frame and with much assistance from my daughter", she added.
Mdm Wong was then admitted for rehabilitation at SLEC, Ang Mo Kio Polyclinic Centre. Within just 3 months of therapy, she was already able to walk without a walking aide. Crossing traffic lights, overhead bridges, zebra crossings, and riding in and out of escalators in the mall also all became second nature to her.
Mdm Wong and her children are very happy with her progress as her overall physical and mental state are now much better. "My confidence level has gone up very much and coming here helps me with my mental health. I have somebody to talk to. I get to participate in activities and go for outings together with friends here," Mdm Wong gladly shared.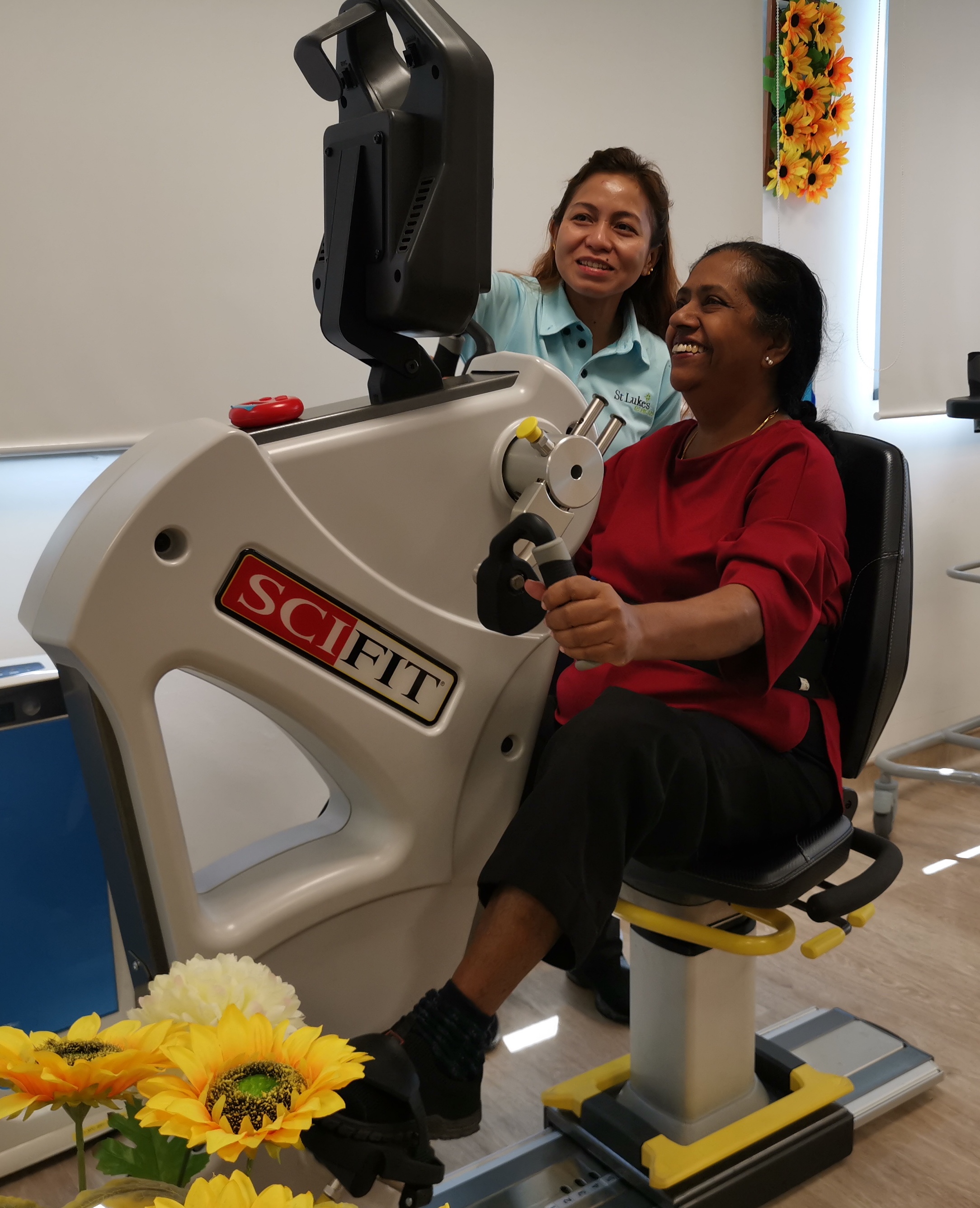 Getting Back on Track with the Help of our Physiotherapists
59-year-old nurse, Mdm Cecilia D/O Ambrose Moriera on the other hand has led a healthy and active lifestyle with no significant medical issues in the past.
Unfortunately, in February 2018, she developed numbness in her right hand and leg, which was later diagnosed as an acute stroke. She subsequently underwent physiotherapy and her doctor instructed her to continue with rehabilitation in the community upon being discharged.
With ataxia on her right leg, Mdm Cecilia went to SLEC, Ang Mo Kio Polyclinic Centre for rehabilitation. As an Ang Mo Kio resident, she was pleased that the centre was near her house. This made it convenient for her to attend regularly.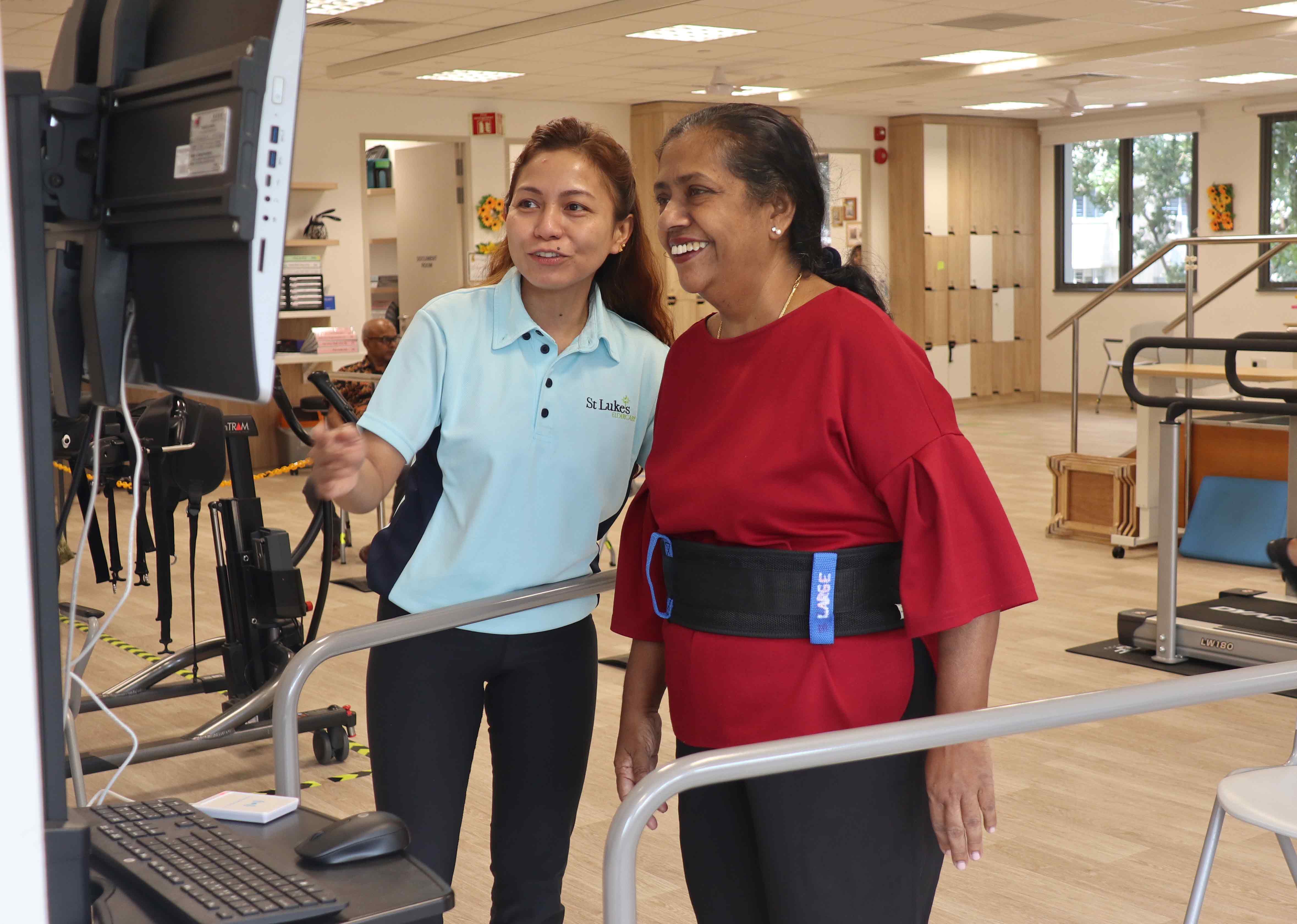 For three times a week, she did intensive physiotherapy and occupational therapy with her physiotherapist, Jennifer: "I would encourage them to bring up mobility problems they encounter at home so I can teach them accordingly"
"I feared falling as I could not walk and sit up and down on my own. My family has a custom of sitting on the floor during meal times, and because of my condition, it was a challenge for me each time.", Mdm Cecilia shared with us initially.
However, upon completion of her therapy at SLEC, she was able to sit down on the floor, eat with family, and stand up unassisted. She also began walking outdoors without a walking aid or any support from her husband.
Mdm Cecilia returned to work as a nurse in February 2019. She and her husband are both grateful to SLEC for her recovery, where the nurturing environment has made her look forward to attending regularly.
These stories are not only a success for our elders and their families but for all of us at St Luke's ElderCare as well, and we gladly celebrate these moments with them!
For enquiries on day rehabilitation services, you may write in to hq@slec.org.sg or call our general hotline, 6390 9368.