'Together we can do more' - Hear from our volunteer, Ada
August 19, 2020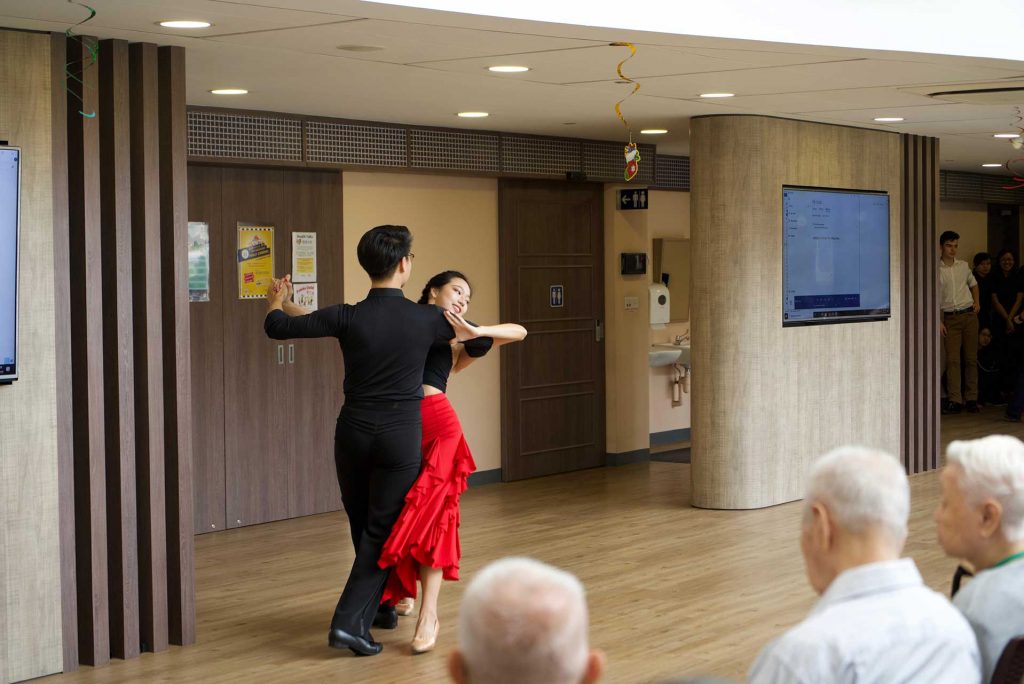 What do you and your friends from Yale-NUS Ballroom do during your visits to our centres?
We usually introduce dance routines that incorporate different genres together such as Waltz, Tango, Cha Cha and ballroom dance. They range from slow to fast paced music. Each of these genres brings a different vibe. For Waltz, it can evoke emotions and memories when played with slow classic songs. The elders like Waltz a lot especially when we play some of the all-time favourite songs from Teresa Teng. They also enjoy the lively quickstep and the passionate tango, especially when the dancers add in stunts and dramatic actions to their performances.
At the centre, we start off by performing the routine, after which we will talk to the elders and invite them to dance with us. Many of them were initially shy but soon after rounds of visits some of them opened up and began stepping out of their comfort zone to dance with us!
What inspires you to introduce ballroom dance to the elders?
Unlike k-pop and hip-hop that entice youths more, ballroom dance is more relatable to the elders. It is slower in pace, less intensive than k-pop and hip-hop, and requires the cooperation of a companion.  The elders could easily learn the steps and are more open to trying this social dance.

Could you share your encounters interacting with the elders?
As the media director, I often help the team to take photos and videos. Through many silent observations captured through camera, I could tell that the elders were most engaged with Waltz especially when we played classic songs. Although they may be limited by their physical ability, they thoroughly enjoyed social dance. The positive atmosphere has encouraged the elders to learn and have fun.
What would you say to youths who wish to give of their talent and time?
It is meaningful to be able to give back with our talents and creative work. I have found a community at Yale-NUS ballroom where my friends and I share the same vision in giving back. I would encourage youths to join a community and together, volunteer their time to a cause they care about. Together, they can do much more.
Whether you are into dance, events management or are keen on volunteering virtually during this period, you may email us at volunteer@slec.org.sg or fill in this volunteer interest form.