Caring Till The End
July 17, 2020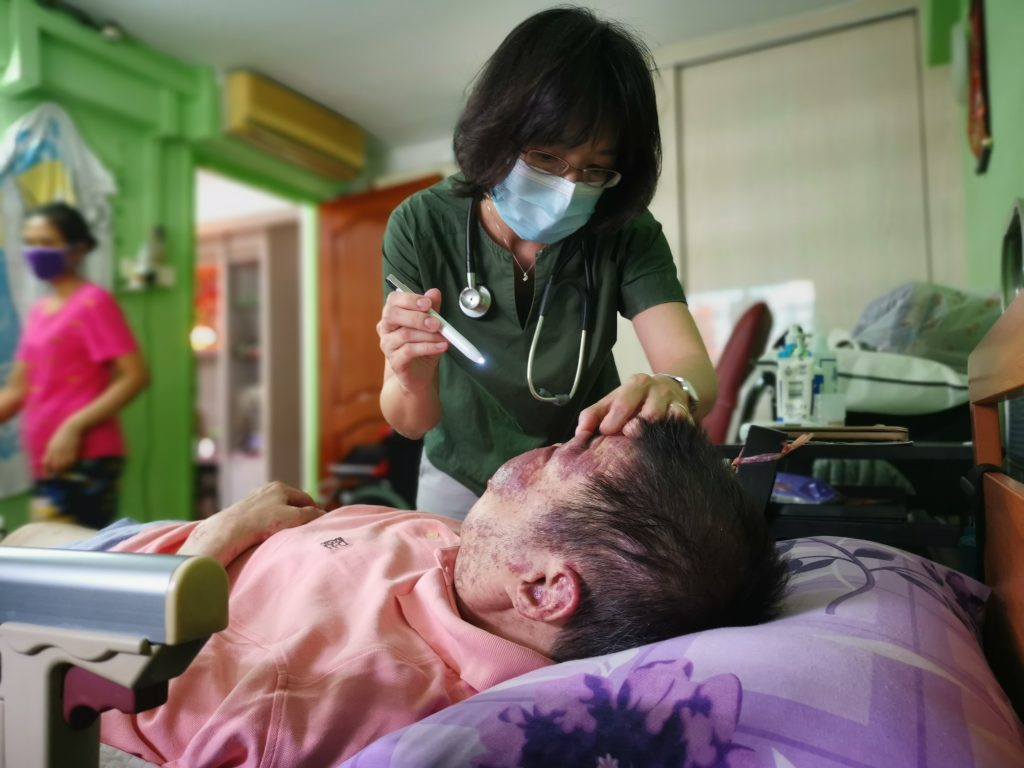 Mr Hong Ming Hean, 53 is just finishing his lunch when Dr Tan Jiak Ping, Home Care Doctor from St Luke's ElderCare arrives for her monthly home visit. It is a sunny Tuesday afternoon, and Ming Hean, his brother, Ming Khim and Mdm Hong, their mother, are looking forward to this visit by Dr Tan.
"How are you, Ming Hean?" greets Dr Tan as she enters the house gate.
After a short pause, Ming Hean nods slowly and breaks into a smile, although he is having much difficulty due to the swelling of his cheeks.

A month ago, Ming Hean had been successfully treated for a urine infection. During today's visit, Dr Tan will follow up on his second urine test results and check on his general condition and function. All these are being done in discussion with his younger brother, Ming Khim, who is his caregiver.
Their helper wheels Ming Hean to his room, and with much strength, lifts him off the wheelchair and onto the bed.
At the bedside, Dr Tan checks Ming Hean's eyes for infection and gently lifts his leg. She notices that he seemed to have some discomfort. Upon checking, she found him to have a developing bedsore, likely caused by wearing diapers and lying down for too long in one position.
"Ming Hean, is it painful?"
Ming Hean's lips curl slightly, as if gathering his thoughts to respond. A long pause follows, while Dr Tan waits patiently for his answer.
Gradual Deterioration And An Unexpected Turn For The Worse
Ming Hean was diagnosed with an incurable congenital neurological disorder that is known to cause seizures, cognitive impairment, and dilation of blood vessels, leading to redness of skin on the face and parts of the body. He made it a point to live life to its fullest. During a canoeing expedition in Phuket in 2003, he had his first seizure in. He was at his prime age of 36. Ever since then, his condition has been on a gradual decline.
 
More than a decade had passed since. Although he had been maintaining well with physical rehabilitation, his condition took a turn for the worse after a stroke in September 2019 affected his functional ability and caused him to become bed-bound.
The circumstances led to his referral to St Luke's ElderCare for Home Therapy and Home Medical services so that he could receive the appropriate care at home.
An Avid Sportsman And His Love For The Outdoors
An avid sportsman, Ming Hean used to take up canoeing recreationally and competitively. Outside of his day job, he found time to coach students in canoeing at Kallang River.
"From young, Ming Hean already knew of his condition and was mentally prepared by doctors that the symptoms could surface anytime. He made it a point to live life to its fullest, " shares Ming Khim.
Over the past decade, the occurrence of seizures increased, many parts of his skin became reddened, and his cognition declined. Ming Hean left his job when his mobility issues and skin discolouration affected him at work.
"I told him that life is more important than work. I could still support him. I'm thankful that his cheerful disposition has helped him to cope with this condition," adds Ming Khim
Moving Towards a Peaceful End of Life
Ming Hean's condition is incurable and would only deteriorate with time. Ming Khim hopes to support his brother through the remainder of his life. Ming Khim shares that the COVID-19 outbreak has enabled him to spend more time with Ming Hean and their 84-year-old mother, after working overseas for many years. He adds, 
"I hope to prepare my brother for the tail-end of life so that he can go through it peacefully. I'm thankful for the home care services by St Luke's ElderCare. The staff are dedicated and care from their hearts. It has made this journey easier for Ming Hean and our family."
Home care services consist of home medical, home nursing, home therapy, home personal care and home dietetics, provided for elders who are frail and unable to utilise the services at a senior care centre.
If you have a loved one in need of home care services, you may call us at 6390 9363 or email homecareadmin@slec.org.sg.
Download St Luke's ElderCare's Home Care Services brochure to learn more about the services we provide